Apostolic Progression
The church as a whole should be moving and flowing apostolically regardless of the denomination persuasion, this is not about an earthly personality, nonetheless, the Lord uses men and women
to advance the Kingdom's agenda however; the personality that should be lifted up is the Divines
of Christ. The church will never be effective with a simple-minded, lukewarm attitude. Ministry is
not a fade; it is the call of God. The church must return to the original blueprint of preaching and teaching Christ, casting out devils, praying for the sick, and preparing for the return of the Lord.
The Five-fold ministry gifts have been given for the perfecting, maturing and development of the
body that the believer would not be tossed to and fro by every wind and doctrine of deceit and
by the cunning edge of the devil. Ref. Eph. 4:11-16. We can no longer allow the gainsayer, the soothsayer, and the 21st century agnostics to be louder than the voice of the church proclaiming
the message of despair and doom, though it may house some form of truth but the only real hope
is Christ our Lord. Ref. John 14:6. I am the way truth and life. John 10:9 Jesus declares He is the
In this hour of job loss, factory closings, corruption from city hall to the White House, the church
must awake to its purpose and be about our Father's business. Is. 52:1-3 and Num. 13:11-14. As the church progressively pursues the mind, will and purpose of God, we must always arm ourselves against the attacks of the enemy. 2 Cor. 2:11. Progression demands that we contend for the faith
that was once delivered unto the saints. Ref. Jude 3
Stagnation is not an option. The unfortunate reality of it is that the Body has locked into a
melancholic state of mind, but the call in this season is for the Sons of God to manifest not with garments of religiosity or the ideology of some well-spoken orator, but the mind of Christ, with
the heart to fulfill the purpose and please God almighty.
Allow me to share with you that if this is going to happen there must be the activation of several principles:
(1). Constantly yield to God. Roman 12:1-2
(2). Build a relationship with Christ. 2 Corinthians 6:14-18,
John 15:8, Matthew 16:24
(3). Be willing to take risks. Apostolic progression is exactly that, risks, it changes a people, a
region, a nation, and it is not about being locked into a tradition. Matthew 14:22-31
(4). Be willing to break cycles, move away from the norm. Mark 9:24-25
(5). Pursue the mind, the will, and the purpose of Christ; not some philosophical ideology, but
the mind of Christ. Romans 8:26-29
(6). Apostolic Progression take's place through Holy living, and integrity of the heart.
Hebrews 12:14 . Job 27:5, 42
Thy Kingdom come. Thy will be done in earth, as it is in heaven ~ Matthew 6:10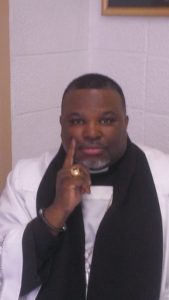 Dr. Oscar Benton, Jr.