Bishop Oscar &
Lady Diane Benton
T

he Mission of Words of Restoration International Ministries C.O.G.I.C., Inc. is that of Luke 4:18,19, "The Spirit of the Lord is upon me, because he hath anointed me to preach the gospel to the poor, he hath sent me to heal the brokenhearted, to preach deliverance to the captives, and recovering of sight to the blind, to set at liberty them that are bruised, 19) To preach the acceptable year of the Lord," that we may win souls into the kingdom for the glory of God.
Our Vision is to provide our partners with an opportunity to be involved in promoting the Gospel of Jesus Christ, as well as, responding to the social needs of our partners and the community in which we have been privileged to serve.
Bishop Oscar Benton, Jr.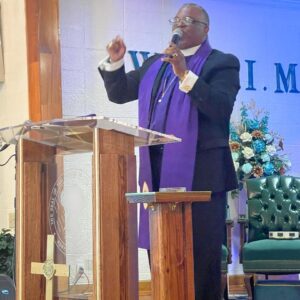 Bishop Benton answered
God's call to minister the Word at the early age of 14. He is a native of Gaston County, North Carolina.
Bishop Benton served in the United States Army and while stationed at Fort Ord, California he served as District Evangelist President for the Monterey Peninsula District under Supt. W. McGhee. Later, while stationed in Berlin Germany, he established "Truth Deliverance Evangelistic Center," where many souls were saved, healed and delivered.
Bishop Benton was mentored by the late Bishop Robert Gittens, and the late J.H. Sherman who was the chairman of the Board of Bishops, Church of God In Christ. Later, Bishop Benton was blessed to be mentored by and serve under California, Northwest the late Jurisdictional Prelate, Bishop W.W. Hamilton, and General Board member (Emeritus), Church of God In Christ; where he served as Assistant Pastor and President of the State Evangelist Department.
Bishop Benton was appointed in July 1995 by Bishop A. D. Williams as Pastor of Words of Restoration International Ministries. in Albany, GA and has faithfully served for 27 years. During his tenure of Pastorin; He established in 2002 the "I-Can Center" that served as a social arm of Words of Restoration church. He also served on the Southwest Georgia Eastern Seal Board.
Bishop Benton has earned a Bachelor of Arts Degree in Pastoral Ministry, a Master's Degree in Ministry, a Doctorate Degree in Theological Studies from the Bethany Bible College and Seminary, and a Doctorate Degree in Philosophy from the B.C. Graham Bible College and Seminary.
Bishop Benton serves as District Superintendent of the Southeast Metro District, Administrative Assistant to the late Bishop O. J. Haney of Northern Georgia First Ecclesiastes Jurisdiction. He also served for over five years as the Expeditor of the O.M. Kelley Institute in the National Holy Convocation, Church of God In Christ. Bishop Benton also has served on the Southeast Georgia Apostolic Counsel.
In March 2022, Dr. Benton, was elevated to the office of Jurisdictional Prelate to India 6th Ecclesiastical Jurisdiction in the Churchof God in Christ, Inc. wehre he oversees 135 Pastors anc churches. He continues to work and build a footprint of the Church of God in Christ, Inc., by establishing biblical training to pastors, coordinating programs to help provide life insurance plans to pastors, building orphanage homes for girls, building churches, Bishop Benton serves as a mentor and spiritual counselor as well as spiritual father to many in the ministry in other fields, such as Pakistan, Nigeria, India, Kenya, and Grenada. Additionally, he serves as an Ambassador for the Kingdom to the C.O.G.I.C. Mission Department for The Republic of Panama and India.
Bishop Benton and his wife continue to work to impact the kingdom and men and women lives; they are the founders of Kingdom Global Life Theological Seminary.
Bishop Benton, is a published author and has written Ten books, "A Spiritual Soldier Fighting God's Way," "God Promises Great Reward to the Faithful," "Evangelism with a Purpose," "I'm Called, Now What," and "Lord Help Me Recover My Axehead." In August 2010, God inspired Dr. Benton to launch his first Christian Magazine entitled "The Apostolic Voice."
Dr. Benton, for 46 years has preached and conducted revivals, conferences, and seminars throughout the United States and overseas with an active itinerary as an International Evangelist. Many souls have been saved, healed and delivered and testimonies of miracles in men and women's lives have been witnessed as he allows the Holy Spirit to freely use him.
Bishop Benton is married to the lovely, Prophetess Dr. Diane Benton, with a blended family of five children, and seven jovial grandchildren. Bishop Benton is a Man of God serious about the mandate that God has given him and is committed to "Making Kingdom Impact." He is continuously striving to "Provide Real Ministry, For Real People, With Real Needs."
Prophetess Dr.
Diane
Benton
Prophetess Benton is a native from Detroit, Michigan and a daughter in the Church of God In Christ, Inc. Lady Benton works diligently by her husband's side proclaiming the Gospel of Jesus Christ.
Her heart beats to see women everywhere whole, healed, and walking in the purpose of God for their lives.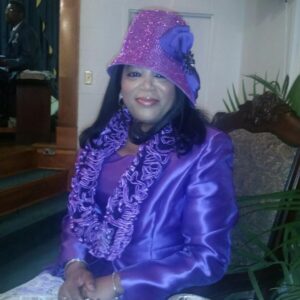 Lady Benton leads the Women of Purpose Women's Ministry at W.O.R.I.M. and is a Mighty Prayer Warrior. She is the founder and coordinator of The Prophetic Prayer Conference which convenes annually. Prophetess Benton has participated in doing radio broadcast, proclaiming the gospel.
Lady Benton has worked for the Federal Government for over 25 years; spending most of her career working in Human Resources, as Office Management, and in Public Affairs (Communications). Lady Benton has a degree in Communications and has earned her doctorate degree in Ministry, she is currently working on her Doctorate in Counseling/Psychology. Lady Benton is the proud wife and partner to Bishop Oscar Benton, Jr. and they have a beautiful blended family of five children and seven grandchildren,
Lady Benton, is the co-founder with her husband Bishop Oscar Benton, Jr. of Kingdom Life Global Theological Seminary where she serves as the Chief Operating Officer (COO).
Prophetess Benton's itinerary is such that she travels wherever God opens a door; doing revivals, seminars, and conferences. Lady Benton, travels also include traveling on the Mission Field with her husband Bishop Oscar Benton, Jr. Most importantly, Lady Benton, is currently working to have her first book published. Most importantly, Lady Benton humbly gives her service to her home, her children, and grandchildren, the community, and serving whereever she is needed in the ministry for the Kingdom and glory of God.